Weekly Special~
Peach Crumble with Yogurt
So, Aunt Pat brought the peaches straight from Michigan & Ms. Bridget created a very appropriate weekly special!
Greek yogurt with lime and a crunchy crumble topping (graham cracker, almond & brown sugar) on that fresh Michigan peach. A perfect seasonal treat!
Peach & yogurt 7′
Peach Continental 8.50′
Thursday Night Dinner Special~15′
Coq au Vin served over parsley buttered noodles.
Served with choice of soup or salad, garlic bread & Ms. Ellie's dessert.
Dinner special served~4pm-9pm
It's Holiday Menu planning time! Check out Ellie's Holiday Menu at www.elliescafe.com and get a jump on the Holidays.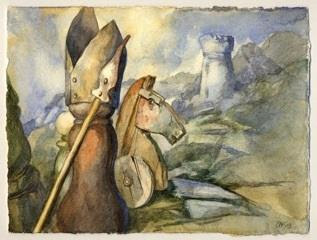 Chess Club
We're looking for moms, dads, brothers, sisters, grandmas, grandpas, first cousins, second cousins, the guy who takes the train with you….If you bring a partner to partner with, if you don't bring a partner it's all good. Just come on down and get your game on!
Saturdays at Ellie's~
Noon to 1pm~ instruction, tutorial time
1pm-3pm Game time
Mark your calendars for the last Saturday in September.
On Saturday, September 30th, we will be hosting our first Chess Tournament!
Stay tuned for more information, but until then………….
Chess Club. Ellie's. Saturday's. 1pm.
All ages, skill levels, races, creeds, colors and political affiliations welcome.
Observe or play. Boards provided. No participation fees or purchase required.
---
We are serving Pizza as our dinner special every second Thursday night each month.
PIZZA CHOICES
PIZZA ONLY
AS A MEAL
Ellie's House "Red"
The 7" pizza crust is dressed with a tomato based red sauce, chopped Ribeye Steak bites, Roasted Garlic and topped with Provolone Cheese.Red Sauce: This sauce combines multiple spices and cheese for a complex progressive flavor, with a touch of sweetness and a very slight-low-heat level
$6.00
$7.50
Ellie's House "White" Veggie
The 7" pizza crust is dressed with a white sauce, sautéed Bell Pepper strips, diced Red Onion, Black Olives and topped with Mozzarella Cheese and thinly sliced tomato.White Sauce: The ingredients used in the composition of the sauce is short, but is just the right combination to provide one of the most unique flavors you will ever taste in a pizza sauce. While this modified Béchamel sauce works extremely well with protein toppings, using it as the base for a vegetable based pizza takes it to another level.
$6.00
$7.50
Ellie's House "Creamy Potato"
The pizza crust is dressed with light and creamy Garlic & Horseradish Mashed Potatoes, Chives and topped with grated Cheddar Cheese, a dash of Paprika and a dollop of Sour Cream
$6.00
$7.50
Build your own
The 7" pizza crust is topped with your choice of Red or White Sauce, 2 toppings, 1 cheese and your choice of spices(up to 2 additional toppings can be added at $.75 each)
 $6.00
$7.50
Sauce options:
red
white
both (half & half)
Topping Options (choose 2):
bacon,
ham,
pork sausage,
chicken,
pepperoni,
Ribeye steak bites (add $1.50)
Salmon (Add $1.50; recommended as topping with the White Sauce)
Bell pepper strips
Black olives
Red onion
Garlic
Mushrooms
Spinach
Tomato
Cheese (choose 1):
Mozzarella
Provolone
Cheddar
Spices (choose any or all):
Basil
Oregano
Rosemary
Thyme